Scotts Valley Realty
Realtor®
About Me
David J. Bergman
Broker
DAVID J.BERGMAN REALTY
Office: (831) 246-1155
FAX:(831) 438-7674
E-mail: DBergmanSVR@aol.com

I was born and raised in Santa Cruz County and was introduced to real estate at a very young age. My grandparents founded Scotts Valley Realty in the 1950's. Living in the area all of my life has given me intimate knowledge of the local community and real estate market. With more than 30 years experience selling real estate in Santa Cruz County, my ability to sell your home is unparalleled. I would would be honored to put my experience, proven marketing techniques and negotiation skills to work for you in what might be one of the most important investments decisions you will ever make. Whether you are buying or selling, choosing the right realtor can make all the difference in the world. I will provide you with the high level of service, expertise and personal commitment you deserve, establishing what I hope will be a long- term relationship extending well beyond the transaction period. I strive to give my clients the best possible service that there is.
Sincerely, David Bergman Broker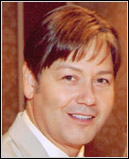 John Craig Markovich
Realtor®
DAVID J.BERGMAN REALTY
Tel: (831) 600-6598
FAX: (831) 461-1722
Email:John@themark.clearwire.net
John Craig Markovich grew up in and attended schools in Santa Cruz County, meeting Broker David J.Bergman. John has a 4 year college degree, BA in Business Administration, which he has implemented by helping Home Buyers and Sellers make their home investment productive and positive.